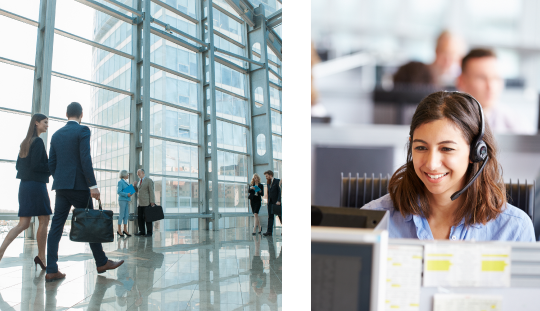 Do you have a short-term project that takes additional manpower? A large-scale job that your current team needs extra hands on? You may need temporary staff. With a temporary staff, you can get the assistance you require for the amount of time you need. This is a great solution for onsite jobs and projects. With temporary staffing we pick a veritable, pre-screened individual or team just for you, who will arrive at your worksite when you need them. We handle all of the paperwork, payroll, and we even offer onsite management and transportation for large teams; so the only thing you need to worry about is getting the job done.
Sometimes finding the perfect person for the job can feel like a high-stakes guessing game, and resumes are just one insight into the ability and skill of a person. Take the stress out of the hiring process with our temporary to permanent staffing solutions. We screen and interview all potential candidates before they interview with your team. Once chosen, the selected individual works at your company for a three month basis. We handle payroll, and any paperwork, allowing you the opportunity to assess their performance. Once the three months are completed, you can choose to take them on as a full-time member of your team.
Looking for a permanent placement can seem daunting, but you don't have to do it on your own. Our permanent staffing solutions provide you with the best candidate to fit your business's needs. Once we have established your company's needs we run through our extensive network to find just the right person for the job. After a thorough vetting process, your team can interview the most viable contenders to find the perfect one for your team.
As the manager of a large warehouse I have been working with Northeast Talent Solutions since 2012. They have always provided me with extremely competitive rates and great employees. Their employees are on time, dependable and fast workers always willing to go the extra mile. For large, small, or last minute projects, I can always depend on Northeast for great service and for employees who can fill any position I may require. I will continue to use their service, as well as recommend them to anyone looking for a great staffing agency.
Johnny Rambally
NorthEast Talent Solutions has always provided us with temps who have been qualified, knowledgeable and reliable. In fact, some of these temps have become full-time employees. The staff at NorthEast Talent Solutions has always been professional, friendly, and easy to work with. I highly recommend them to any business looking for quality temporary help at an affordable rate.
Steve Zembriski
My experiences in the past with employment agencies have been mixed to say the least. My experiences with Northeast Talent Solutions have been by far the most pleasing to work with.  They have been very courteous, honest, professional, and always have my best interests in mind.  They are always accessible via phone or email and this shows their dedication to the customers by always making themselves available.  I would definitely recommend Northeast Talent Solutions.
AJ Muniz